Health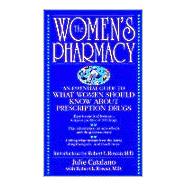 The Women's Pharmacy: An Essential Guide to What Women Should Know about Prescription Drugs (New York: Random House/Dell, September 2000). Co-authored with Robert L. Rowan, MD. A pill guide for women featuring profiles on more than 300 drugs, safe drug use, becoming a more informed medical consumer, and improving communication with doctors and pharmacists.
Author Spotlight - Random House
Nuestras Historias: Mujeres Hispanas Sobreviviendo el Cáncer del Seno (Our Stories: Hispanic Women Surviving Breast Cancer) In a book produced by Redes En Acción, 26 South Texas Latinas who have fought breast cancer describe their survivorship in their own words in a 114-page, full-color publication presented in both English and Spanish. The book relates the influence of the Hispanic/Latino culture on the breast cancer experience and on the coping skills used by many of the Latina women in battling the disease.
Editorial team: Sandra San Miguel de Majors, Project Coordinator/Translator; Dani Presswood, Editor; Patricia Chalela, MPH, Translation Consultant; Julie Catalano, Copy Editor/Research Coordinator; Joan Snow, Photographer; Jeffrey Heinke Design, Graphic Designer
Awards:
2005 Bronze Addy Award, American Advertising Federation San Antonio; 2005 Bronze Quill Awards, International Association of Business Communicators; Award of Excellence for Publications – Special Populations; Award of Merit for Publication Design – Special Populations; 2005 The Communicator Award of Excellence; 2005 Bronze Award, National Health Information Awards; 2005 Platinum Award, MarCom Creative Awards
2005 Silver Quill Award, International Association of Business Communicators, Award of Merit